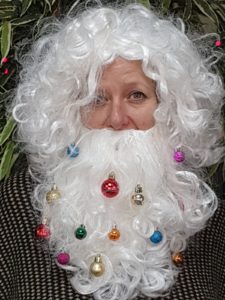 Yes, Decembeard is back again for the whole of December.  Taking part is simple, all you need to do is banish your razor to the back of the bathroom cabinet and let your beard "do its thing"!  If you've already got a beard then you can really let your imagination flow by dying it or even decorating it and what better time to give your beard a bit of fun than at Christmas!
Taking part couldn't be simpler, all you need to do is sign up and raise as much money as you can for this very worthy cause.
Bowel Cancer UK is the UK's leading bowel cancer charity providing support for everyone affected by bowel cancer.  Their online forum is a place where people can talk about their experiences, share their knowledge and support each other.
Bowel Cancer
Bowel cancer is also called colorectal cancer affects the large bowel, which is made up of the colon and rectum.
The cells in your body normally divide and grow in a controlled way but cells change and grow in an uncontrolled way when cancer develops.
Although most bowel cancers develop from pre-cancerous growths, known as polyps, not all polyps develop into cancer.  If polyps are found, they can be removed by your doctor to prevent them becoming cancerous.
Cancer cells may stay in the bowel or may spread to other parts of the body, including the liver or lungs.
What do Bowel Cancer UK do?
They campaign for early diagnosis and access to the best treatment and care and are leading change for younger bowel cancer patients to improve survival and quality of life for those with advanced bowel cancer.
Their aim is to put patients and their families at the heart of their research programme to ensure they can help shape the future of bowel cancer research.
They run training workshops and study days for healthcare professionals and have a dedicated team of volunteers who give free awareness talks and spread the word about symptoms, risk factors and bowel cancer screening.
Early Diagnosis
Bowel Cancer UK are campaigning to improve early diagnosis by ensuring people have access to the right test at the right time.  Around 16,000 people die from bowel cancer each year, making it the UK's second biggest cancer killer.  However, this shouldn't be the case as the disease is treatable and curable, especially if diagnosed early.  An estimated 9 in 10 people will survive bowel cancer if diagnosed at the earliest stage.
Above information sourced from https://www.bowelcanceruk.org.uk/about-us/what-we-do/
With early diagnosis being so important for bowel cancer;  as is the case with all cancers, this is where private health insurance can really come into its own due to the speed at which you can been referred to and seen by a specialist. If you would like to know more about private health insurance and all the other benefits that it offers, then please contact the team at SMP Healthcare Ltd who will be happy to help you.  01245 929129 / email tracy@smphealthcare.com