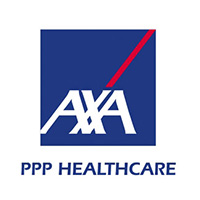 AXA PPP Healthcare were founded in 1940 by doctors working for the Royal Medical Colleges and the British Medical Association alongside the health charity known the Kings Fund. The concept was to help people on average incomes source expert healthcare fast. This founding company was known as the Association of Medical Services and it was not until 1999 that they joined the AXA Group.
AXA PPP Healthcare therefore are now part of one of the world's largest insurers that serves over 107 million clients worldwide.
Private medical insurance from AXA PPP Healthcare is available for individual, family, small business and corporate clients. Offering a modular product, AXA PPP Healthcare can help their members access the right benefits to suit their budget.
Under AXA PPP Healthcare's Business Health plan businesses can build a policy which is bespoke to them to suit their specific company and budget requirements. The plan offers a range of benefits including diagnostics only, treatment, employee assistance programme, mental Health, dentist and optician cashback, therapies, travel insurance benefit, extended cover and a range of out-patient options. Business covering 1-2 employees will need to include either the treatment or diagnostics only module within their plan.
For claims relating to bones, joints and muscles AXA PPP Healthcare offer their Working Body benefit allowing their members to speak directly to a physiotherapist without having to have a GP referral, saving valuable time in receiving treatment. The Working Body service is not available to those under the age of 18.
Clients of AXA PPP Healthcare can reduce their premiums by choosing to add an excess to their policy, paying the premium by annual direct debit, taking a 2 year fixed cost or applying the NHS 6 week option.
The Business Health Select policy was awarded the Defaqto 4 star rating in 2019, their Personal Health plan was awarded the Defaqto 5 star rating in 2019.
AXA PPP Healthcare were also awarded the Health Insurance Provider of the Year in 2018 at the Moneyfacts Consumer Awards 2018. They were also awarded as the Best Group Private Medical Insurance Provider of the year in 2019 at the Health Insurance and Protection Awards 2019.
AXA PPP Healthcare clients have the peace of mind that there are a team of dedicated nurses for members who are diagnosed with cancer or heart conditions and these nurses can help support clients and their family through the whole process, even prior to a confirmed diagnosis.
AXA PPP Healthcare has one hospital list for their members giving them access to hospitals, scanning units, day-patient facilities and other private healthcare facilities. The Directory of Hospitals is available to download and shows clearly the facilities available from AXA PPP Healthcare in the UK.
Member Online gives the AXA PPP Healthcare members quick and easy access to their policy documents and the ability to make a claim and keep track of their claims progress.
The Doctor@Hand service has been developed by AXA PPP Healthcare to give their members access to a qualified GP by video or telephone from anywhere in the world, day or night.
Information sourced from https://www.axappphealthcare.co.uk/.