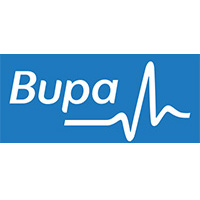 Bupa were originally known as the British United Provident Association and was created in April 1947.  Just over a year later in July 1948 Bupa boasted 38,000 customers and now they look after over 27 million people across the world.
In the 1970's Bupa pioneered the concept of health screening and in London Bupa opened their first health screening centre. In the first operational year, Bupa scanned 7,500 people.
Bupa offer health and wellbeing insurance products in the UK on an individual, small business and corporate basis. Bupa Global can also offer international private medical insurance for people living or working away from home. Policies available from Bupa include Private medical insurance, dental insurance, cash plans, health screening and Bupa also have care homes and health centres across the UK.
Bupa Health cash plans enable you to claim money back related to everyday healthcare costs such as dental and optical treatment. There are two benefit levels available to Bupa health cash plan clients and claims can be made online or via post, whichever method is more convenient. Bupa health cash plans provide 100% cash back up to the Bupa benefit levels.
Bupa have increased their mental health cover for businesses to include cover for alcohol & drug related psychiatric conditions as well as conditions relate to self-harm, they have removed time limits for treating mental health conditions and members can call Bupa directly to discuss a possible claim relating to mental health rather than going to their GP for a referral. These increases in cover are currently not available as standard from other providers in the UK.
In March 2008, Bupa acquired the Cromwell Hospital, now known globally as the Bupa Cromwell. The Bupa Cromwell is internationally renowned and based in central London. The hospital offers treatment to both adults and children, also providing an International Patient Centre to help those patients and their families who are travelling from abroad for treatment.
Bupa has no shareholders and their focus is looking after their members. They strongly believe that their healthcare should be accessible to all and offer a broad range of products and services. It is not just Bupa private medical insurance customers who can have access to the Bupa expertise in other areas.
Bupa offer pay as you go or self-funding options as well as their private medical insurance products you can access Private GP services, health assessments, dermatology, dental treatment and procedures at the Bupa Cromwell are all available on the pay as you go basis.
Bupa private medical insurance in the UK can be bought either through an intermediary or direct from Bupa itself.
The Bupa website offers a wealth of information relating to a whole host of health and wellbeing subjects. It provides tools such as a BMI Calculator, calorie counter and it also provides an easy to use hospital/ consultant finder to enable members to check for Bupa recognised healthcare professionals and facilities.
Bupa travel insurance is available for annual or single trip journeys, in 2019 with Brexit being a concern for many travellers, Bupa have provided a webpage with FAQ's specifically relating to how the UK's departure from the EU would affect Bupa members travel insurance.
Bupa won the Best SME Private Medical Insurance Provider, Best Customer Service & Best Individual International Healthcare Provider at the 2019 Health Insurance & Protection Awards.
At the Cover Customer Care awards in 2020, Bupa were awarded with both the Best Health Insurance and Best Mental Health Support Service awards.
The above information has been sourced from https://www.bupa.co.uk/.