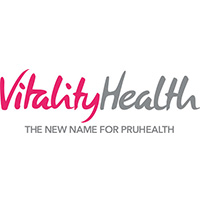 Vitality Health are owned by Discovery Holdings who are in turn a leading global insurer with over 4.4 million clients. Discovery joined the UK market in 2007 as part of a joint venture with PruHealth and PruProtect. Discovery purchased 100% of the shares in 2014 and created VitalityHealth and VitalityLife. 2018 saw the launch of VitalityInvest which as the name suggests, see's entry into the Investment market.
Vitality Health were the first private medical insurance provider to reward their members for living a healthy lifestyle. Vitality Health therefore offer a comprehensive health insurance policy combined with rewards and discounts for their members, a unique private medical insurance solution.
Vitality Health insurance has won a number of awards over the years with the most recent being the Best Individual Private Medical Insurance at the 2019 Cover Excellence Awards.
VitalityHealth corporate services are also proud to have achieved the ISO 27001 Certification Europe which is the certification for Information Security Management which is an internationally recognised standard.
Vitality Health currently have a well-known TV advertising campaign featuring a Dachshund by the name of Stanley.
Vitality as a brand have a number of high profile ambassadors currently including Ellie Simmonds, Heather Knight, Jessica Ennis-Hill, Joe Root, Jonny Wilkinson, Joss Buttler, Maro Itoje and Lord Sebastian Coe.
The Vitality Health reward partners are currently well known brands including:
Apple Watch, Amazon Prime, Waitrose and Partners, Caffé Nero, Virgin Atlantic, Expedia, Cineworld, Vue, Champneys and Garmin.
From 2019, Vitality Health confirm that their members can claim cinema tickets at Cineworld or Vue cinemas if the Vitality Health member earns 12 activity points for two weeks consecutively. You can earn Vitality activity points by walking, running, jogging, taking an exercise class. There are many ways to earn activity points and these are easily tracked with an activity tracker such as Garmin or Fitbit.
Vitality Health offer modular private medical insurance for both personal and business healthcare policies. Core cover from Vitality Health includes cover for primary care through Vitality GP, face to face GP, In-patients and Day-patients treatment, mental health cover and advanced cancer cover to name just a few of the benefits.
Optional cover add on benefits for Vitality Health members include out-patients cover, therapies cover, travel insurance, out-patients diagnostics, dental treatment and for business schemes there are the options of adding employee assistance programmes and personal health funds.
Vitality Health offer Consultant Select, Local, Countrywide and London Care hospital list options.
Vitality Health will allow members to add an excess to their policy to reduce the premium for their private medical insurance. Vitality Health excess options are either per claim or per year.
Information sourced from: www.vitality.co.uk/health-insurance.